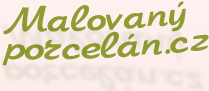 As painter paints a painting, which becomes an original,
each of our piece of painted china is original as well ... We have been decorating china and using the best techniques and the most recent materials. Have a closer look and see what makes our products so unique and popular.

We Are Different from Others

No transfer picture, no stic-
ker, no machine. Uniqueness and high quality is guaranteed only by skilfulness of our painters.

more

Business Results
Painted porcelain has at our customers been inseparable part of our offer for several years. We increase our production and broaden our offer each year.

more

18.3.2006
Lets paint yourself porcelain
We are finding many good ideas...

more

12.3.2006
For luck
We present ceramic cups for luck...

more
Are you interested in our painted porcelain?
Then we can be your partner!
You can have painted porcelain in offer of your shop, wholesale or export company - for extraordinary price and quality. We offer unique assortment and proper business terms.